FLASHFlux: Fast Longwave And Shortwave Radiative Fluxes
Teaser image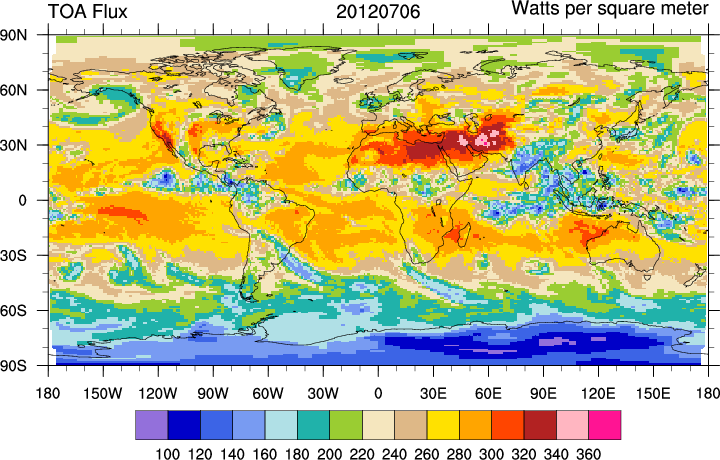 Main content
FLASHFlux provides near real-time (7-8 days) quantification of surface radiative fluxes which are important for understanding the impact of changes to the Earth's surface and the atmospheric state on surface radiative fluxes.
An operational subsystem which uses a portion of the existing CERES processing system, merges CERES and MODIS observations from Terra and Aqua platforms. Several modifications to increase processing speed. This constitutes an important step in the understanding of weather and climate processes. Timely analysis of these fluxes also helps to characterize their spatial and temporal variability on regional and global scales. Later, (6-12 months), highly accurate CERES flux estimates are made available.
Key Strengths
Key Strengths
Near real-time (7-8 days) quantification of surface radiative fluxes
Key Limitations
Key Limitations
Algorithms not as sophisticated as CERES-EBAF
Please cite data sources, following the data providers' instructions
Hosted Climate Index Files
None
Data Access
Other Information
Earth system components and main variables
Metadata ID
Data time period extended
None
Domain
Formats:
Missing Data Flag
Missing data present
Model Resolution (reanalysis)
None
Data Assimilation Method
None
Model Vintage (reanalysis)
None
Key Publications
Not available...