Goddard Satellite-based Surface Turbulent Fluxes Version 3 (GSSTF3)
Teaser image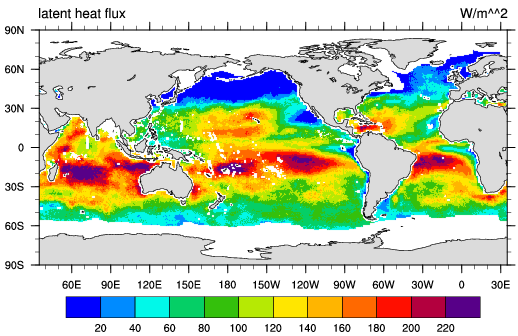 Main content
Version 3: The Goddard Satellite-based Surface Turbulent Fluxes (GSSTF) data set is part of the NASA Making Earth Science Data Records for Use in Research Environments (MEaSUREs) Project. The objective of this project is to continually produce a uniform data set of sea surface turbulent fluxes derived from remote sensing data and analysis that have been and continue to be useful for global energy and water flux research and applications. This product is useful for diagnosing the global water and energy cycle interaction of higher frequency scenario. Fully tested, these products can serve as a crucial input for data assimilation of oceanic GCMs.
In contrast to previous versions, the GSSTF_3 is on a 0.25x0.25 degree grid, as well as involving an updated algorithm for surface air humidity retrieval. Similar to the preceding Version 2c GSSTF, a corrected/improved set of SSM/I Brightness temperatures (Tb) have been used. Basically, the artificial trends found in the original SSM/I V6 Brightness Temperatures (used for producing Version 2b GSSTF previously) due mainly to the variations/trends of Earth incidence angle (EIA) in the SSM/I satellites were genuinely removed.
Key Strengths
Key Strengths
Artificial trends removed
Please cite data sources, following the data providers' instructions
Hosted Climate Index Files
None
Other Information
Earth system components and main variables
Type of data product
Dataset collections
Data time period extended
Yes, data set is extended
Timestep
Climatology, Sub-daily, Daily, Monthly
Domain
Formats:
Missing Data Flag
Missing data present
Model Resolution (reanalysis)
None
Data Assimilation Method
None
Model Vintage (reanalysis)
None
Key Publications
Not available...