NASA Energy and Water cycle Study (NEWS) Climatology of the 1st Decade of the 21st Century Dataset
Teaser image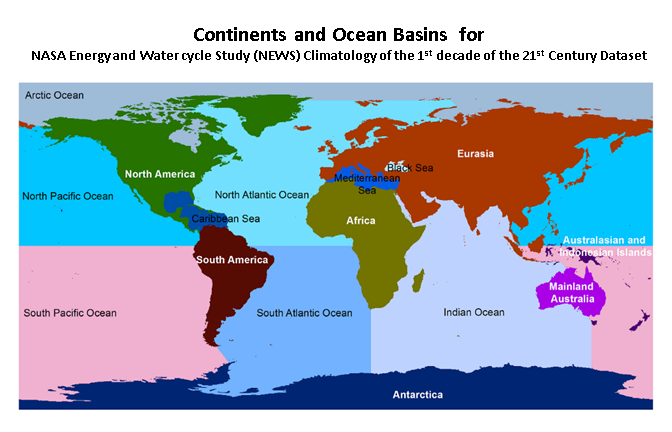 Main content
This data set summarizes the original observation-based mean fluxes of Water and Energy Budget (WEB) components during the first decade of the 21st century (specifically: 1998-2010), for each continent and ocean basin.  These data are summarized on both monthly and annual scales, as well as means over all oceans, all continents, and the globe. A careful accounting of uncertainty in the estimates is included.
Please cite data sources, following the data providers' instructions
Suggested Data Citation
NASA requests that you include the following acknowledgment in papers published using these data:"The data used in this study were acquired as part of the mission of NASA's Earth Science Divisionand archived and distributed by the Goddard Earth Sciences (GES) Data and Information Services Center (DISC)."
Hosted Climate Index Files
None
Data Access
Other Information
Earth system components and main variables
Type of data product
None
Data time period extended
None
Timestep
Climatology, Monthly, Annual
Domain
Formats:
Model Resolution (reanalysis)
None
Data Assimilation Method
None
Model Vintage (reanalysis)
None