Global Ocean Heat and Thermospheric Sea Level Change
Teaser image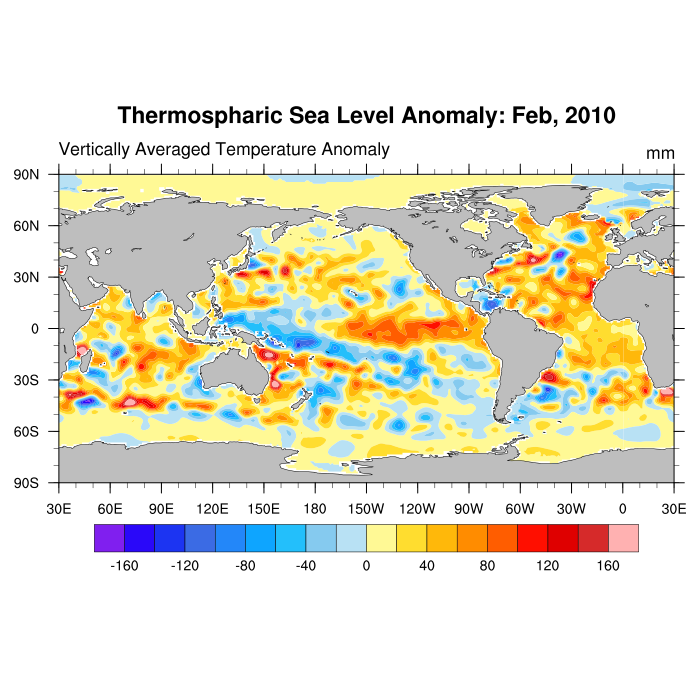 Main content
Using updated data from the World Ocean Database (Boyer et al, 2009) and improved ARGO profiling data, new estimates of ocean heat content and thermospheric sea level change (0-2000m) for the period 1955-2010 are derived.
Key Strengths
Key Strengths
Uses data not previously available; bathermographic data corrected for instrumental bias; improved Argo data
Key Limitations
Key Limitations
Individual grid points can be 'noisy.'
Please cite data sources, following the data providers' instructions
Hosted Climate Index Files
None
Data Access
Key Figures
Other Information
Earth system components and main variables
Type of data product
Data time period extended
None
Timestep
Monthly, Seasonal, Annual
Domain
Input Data
bathythermograph, Argo profiler
Model Resolution (reanalysis)
None
Data Assimilation Method
None
Model Vintage (reanalysis)
None
Key Publications
Levitus et al, (2012): World ocean heat content and thermosteric sea level change (0–2000 m), 1955–2010. GRL VOL. 39, L10603

Boyer, T. P., et al. (2009), World Ocean Database 2009, vol. 1, Introduction, NOAA Atlas NESDIS, vol. 66, edited by S. Levitus, 219 pp., NOAA, Silver Spring, Md.