MODIS GPP/NPP Project (MOD17)
Teaser image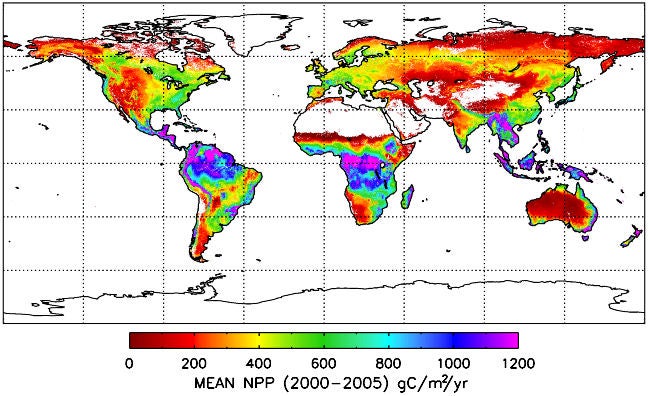 Main content
The goal of the MOD17 MODIS project is to provide continuous estimates of Gross/Net Primary Production (GPP/NPP) across Earth's entire vegetated land surface. MOD17 GPP/NPP outputs are useful for natural resource and land management, global carbon cycle analysis, ecosystem status assessment, and environmental change monitoring. MOD17 is part of the NASA Earth Observation System (EOS) program and is the first satellite-driven dataset to monitor vegetation productivity on a global scale. (source: http://www.ntsg.umt.edu/project/mod17)
Please cite data sources, following the data providers' instructions
Hosted Climate Index Files
None
Data Access
Key Figures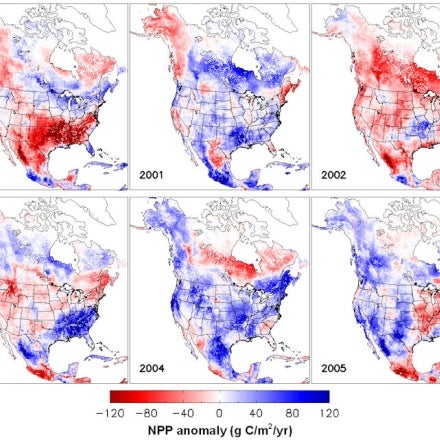 nterannual variability of NPP over the North American Carbon Program (NACP). http://www.ntsg.umt.edu/project/mod17 domain.
Other Information
Earth system components and main variables
Type of data product
Data time period extended
Yes, data set is extended
Timestep
Monthly, Weekly, Annual
Domain
Formats:
Vertical Levels:
Missing Data Flag
Missing data present
Model Resolution (reanalysis)
None
Data Assimilation Method
None
Model Vintage (reanalysis)
None
Key Publications
Not available...