Sea Ice Concentration data reprocessed from SSMR & SSMI, by Eumetsat
Teaser image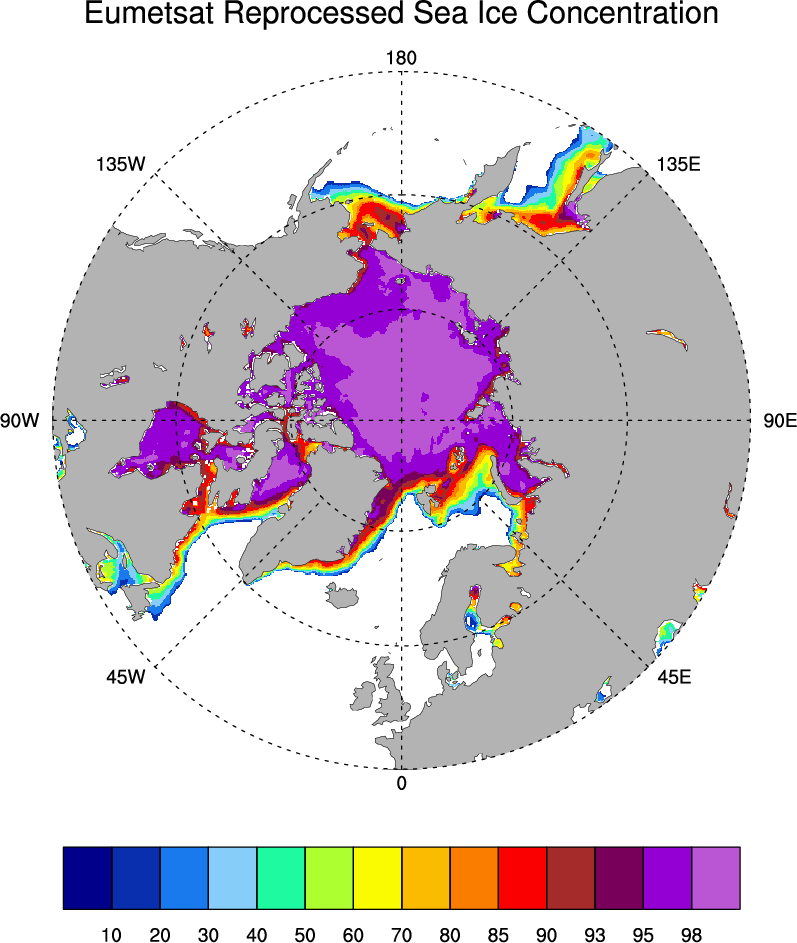 Main content
The Eumetsat Ocean and Sea Ice Satellite Applications Facility provides a "reprocessed" data set of Arctic and Antarctic sea ice concentration for 1978-2009. Source data are the SMMR and SSM/I passive microwave brightness temperatures. Three algorithms are utilized: the Technical University of Denmark algorithm is applied to the SSM/I data from 1991 onwards; the Bootstrap and the Bristol algorithms are combined for the SMMR and SSM/I data for 1978-1991. The Bootstrap is said to have lower sensitivity to atmospheric noise in areas of open water (helping to delineate the ice edge), while the Bristol algorithm is applied due to its lower sensitivity to ice surface emissivity variability. In general, atmospheric effects are more pronounced for relatively low ice concentrations. More information is available in the documentation and publications linked below.
Key Strengths
Key Strengths
Long, daily or every-other-day timeseries of sea ice in the Arctic and Antarctic
Uses dynamic tie points adjusted to typical brightness temperatures of ice and open water; this may account for satellite drift and inter-satellite calibration issues
Corrections are applied for weather effects (water vapor and surface roughness) on the passive microwave signals
Key Limitations
Key Limitations
Not fully updated to present
Few publications about it; properties are not widely known
The weather corrections depend on the ERA-40 and ECMWF operational forecasts and this could possibly introduce non-climatic biases
Please cite data sources, following the data providers' instructions
Suggested Data Citation
EUMETSAT Ocean and Sea Ice Satelitte Application Facility. Global sea ice concentration reprocessing dataset 1978-2009 (v1.1, 2011), [Online]. Norwegian and Danish Meteorological Institutes. Available from http://osisaf.met.no.
Hosted Climate Index Files
None
Key Figures
Other Information
Earth system components and main variables
Type of data product
Data time period extended
No, data set not being extended
Formats:
Vertical Levels:
Missing Data Flag
Missing data present
Model Resolution (reanalysis)
None
Data Assimilation Method
None
Model Vintage (reanalysis)
None