CRU sc-PDSI (self-calibrating PDSI) over Europe & North America
Teaser image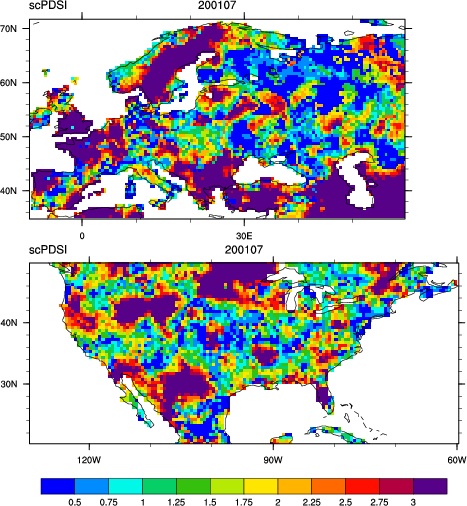 Main content
Maps of the monthly self-calibrating Palmer drought severity index (SCPDSI) have been calculated for the period 1901–2002 for the contiguous United States (20°–50°N and 130°–60°W) and Europe (35°–70°N, 10°W–60°E) with a spatial resolution of 0.5° × 0.5°
Key Strengths
Key Strengths
The SC-PDSI improves upon the PDSI by maintaining consistent behavior of the index over diverse climatological regions. This makes spatial comparisons of SC-PDSI values on continental scales more meaningful.
Please cite data sources, following the data providers' instructions
Hosted Climate Index Files
None
Cite this page
Acknowledgement of any material taken from or knowledge gained from this page is appreciated:
National Center for Atmospheric Research Staff (Eds). Last modified "The Climate Data Guide: CRU sc-PDSI (self-calibrating PDSI) over Europe & North America." Retrieved from https://climatedataguide.ucar.edu/climate-data/cru-sc-pdsi-self-calibrating-pdsi-over-europe-north-america on 2023-12-08.
Citation of datasets is separate and should be done according to the data providers' instructions. If known to us, data citation instructions are given in the Data Access section, above.
Acknowledgement of the Climate Data Guide project is also appreciated:
Schneider, D. P., C. Deser, J. Fasullo, and K. E. Trenberth, 2013: Climate Data Guide Spurs Discovery and Understanding. Eos Trans. AGU, 94, 121–122, https://doi.org/10.1002/2013eo130001
Key Figures
Data time period extended
No, data set not being extended
Domain
Formats:
Vertical Levels:
Model Resolution (reanalysis)
None
Data Assimilation Method
None
Model Vintage (reanalysis)
None